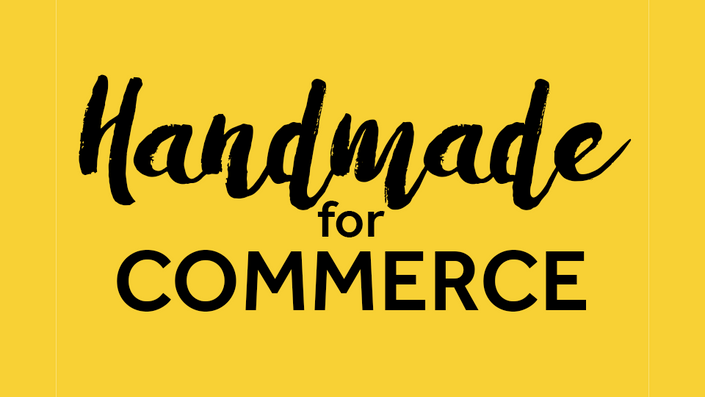 Is the idea of migrating from Etsy to your own e-commerce site a daunting challenge?
Figuring out the right e-commerce platform...

Knowing how to drive traffic to your new e-commerce site...

Squeezing out time to build your new website while still running your Etsy store plus everything else you're juggling...

Getting overwhelmed by all the design and app choices...

Optimizing your website for SEO seems mind-numbing...

Then you have to setup your domain, payment gateway, shipping, and more...
---
Even if you're able to figure out all these things on your own...How will you get the word out about your new e-commerce store?
In other words, what's your marketing strategy to sustain a profitable handmade business online?
You know – the things needed to successfully drive traffic to your website, collect leads of prospective shoppers, and then convert those leads into paying customers.
Introducing Handmade for Commerce...a 7-module interactive, video-based course that teaches creative makers and handmade brands a system to not only launch your Shopify store but market it for sold-out success!
Whether you're brand new to selling online or an established Etsy seller ready to grow, Handmade for Commerce will challenge you to take actionable progress to create the standout business of your dreams.
Your training includes:
Handmade for Commerce is offered in 7 learning modules. Each module features easy-to-follow video lessons, done-for-you templates, helper scripts, swipe files, reference guides and workbooks. All of the training is delivered through the online, student-only learning portal. Here you can keep track of your progress, compare notes with classmates, and apply the content immediately to the marketing system and online store you're designing.
Handmade for Commerce also provides interactive support and a private, student-only community forum where you have the opportunity to ask questions and share progress while connecting with fellow classmates.
With lifetime access, Handmade for Commerce was designed to fit into the busiest of schedules. Go at your own pace or retake the course for free, for as long as the program exists.
You'll be experiencing engaging online learning as you learn to design your own online store and marketing system.

Module 1: Dream Customer Clarity
Get clear on your unique offering, learn the power of target marketing vs. selling to everyone, and tap into the needs and desires of your dream customer. The connection that you make with your products/offerings and your dream customer will eliminate competition and foster a loyal, engaged, and raving customer-base.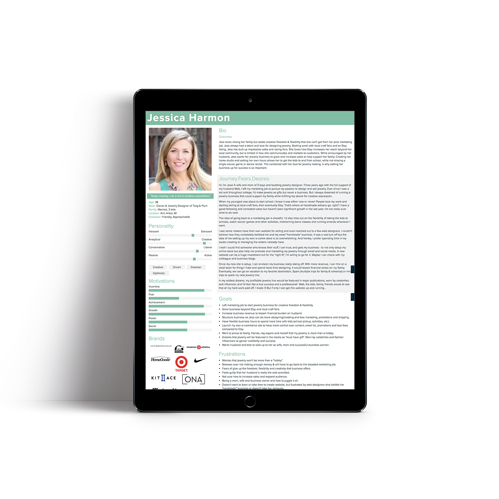 You'll Get:
Dream Customer Clarity Workbook, a step-by-step discovery process to uncover your unique offering, gain clarity on your dream customer to know how and where to connect with them.
Dream Customer Storyboard, a visual online tool and reference guide that illustrates the qualities and characteristics of your dream customer.
Module 2: Lead Attraction
Take everything you discovered about your dream customer to position your handmade business as the must-have solution to your dream customer's burning desires and nagging problems. Using a laser-focus approach, you'll create an irresistible offer to attract leads and grow your email list before you even start selling.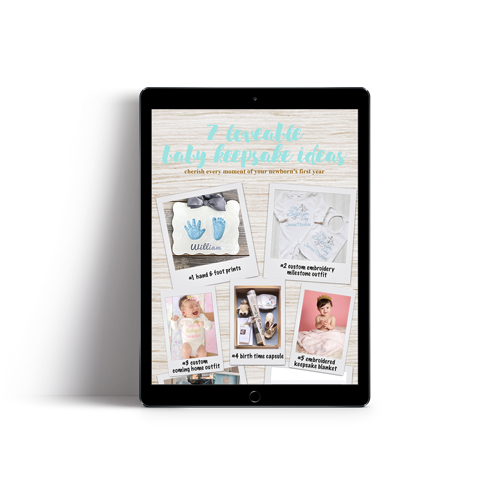 You'll Get:
Lead Attraction Workbook, a guided process to help you create a killer lead magnet that speaks to your dream customer's needs and desires.

Lead Magnet Swipe File, a collection of unique lead magnet offerings in the handmade space to inspire your irresistible offering.

Fill-In-The-Blank Lead Attraction Title Formula, helps you craft a wickedly-good title for your lead magnet.
Landing Page Copywriting Formula, encourage prospects to sign up for your lead magnet with a persuasive copywriting formula.
Module 3: Pre-Launch List Building & Landing Page Design
Apply the strategies of top online sellers and craft your pre-launch sales funnel strategy. You'll learn the importance of designing an effective landing page to build your prospect list early. By reversing your approach and growing your list while building your online store, you'll prime your handmade business for a successful store launch.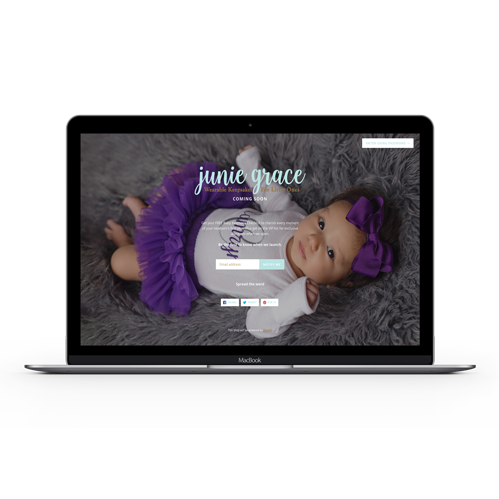 You'll Get:
Free 21-Day Shopify Trial (Bonus), course-exclusive, extended trial so you don't have to worry about plan fees while creating your landing page and online store.

Code Swipe File, customizing your landing page has never been easier with this code swipe file for you to follow along and just copy and paste.
Asset Checklist, stay organized and keep track of the design elements for your landing page.

Shopify Email App Guide, helps you integrate email marketing automation into your sales funnel strategy.

Email Marketing Script Guide, craft a personalized message that delivers your lead magnet and keeps your prospect engaged until your store opening.
Social Graphic Templates, optimize your online footprint to pull your dream customer into your sales funnel.
Module 4: Product Organization & SEO
Learn the importance of both the user experience and search engine optimization (SEO). Your products and offerings are the foundation of your online store. Lay a solid foundation by effectively organizing your products and optimizing descriptions and photos so customers and search engines can easily navigate and find your offerings. You'll learn to apply this product organization system for any inventory size.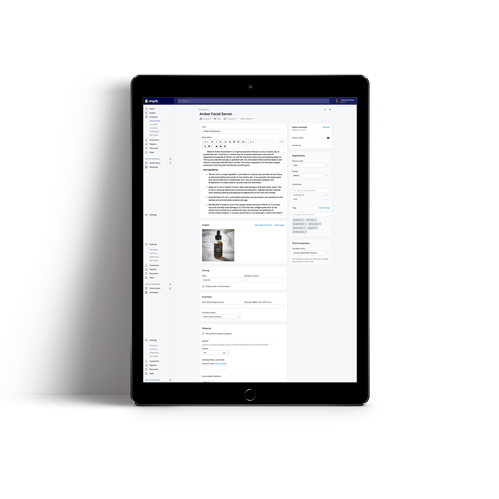 You'll Get:
Shopify Tech Guide, your handy reference library to make managing your Shopify store a breeze.
Product Copywriting Architecture, model my 2-part formula to write a compelling, shop-worthy product description that customers and search engines will love.

Navigation Plotter, a menu organizer that helps you plot product categories and store information to improve the shopping experience and foster trust.

SEO Overhaul Guide, a guided process to help you identify product keywords, where to place them and how to craft a search-worthy meta description.

DIY Product Photography 101, a checklist and guide to help evaluate your photos, how to take quality product photos using your smartphone and achieve a professional and consistent layout.
Module 5: Store Content & Design
In this module, brand design meets share-worthy content. You'll learn to personalize your store with content that shares your story and educates customers during their buying journey. Plus you'll design a high-converting, online storefront customized with your brand colors, typography and logo.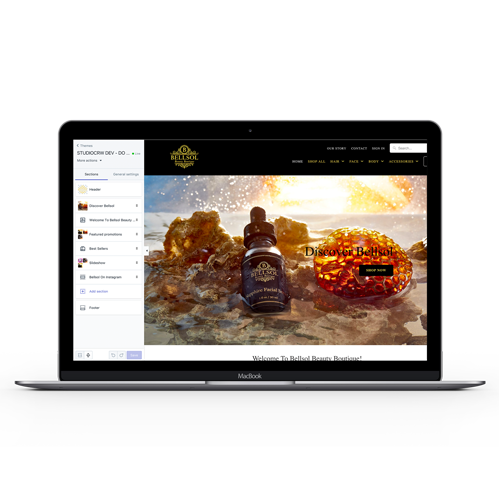 You'll Get:
The Ultimate E-Commerce Homepage Checklist, a visual blueprint of the top-converting elements for your online store homepage that turns visitors into customers.

Theme Swipe File, get inspiration with a collection of homepage mockups using the course theme to spark your creativity.

Content Planner, organize content and outline the supporting pages of your online store for maximum impact and customer service.

Theme Customizer Cheatsheet, outlines all areas of the them customizer

to make design updates like a pro.
Module 6: Apps, Settings & Launch
Add the finishing touches to transform your online store into the ultimate sales machine and get it ready to go live. You'll discover the top Shopify apps that will save you time and make the shopping experience a delight for customers. Then finalize your store set up so your site looks professional and be ready to receive payments, fulfill and ship orders, and track your store analytics.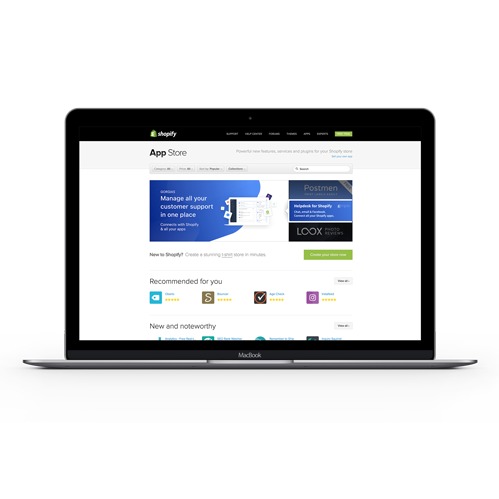 You'll Get:
Shopify Apps for Handmade Brands Guide, a full list of free or low-cost Shopify apps to create a customized user experience and streamline your store and order management.

Storefront Setup Checklist, a complete check

list to get your online store ready to go live including your domain, payment gateway, and shipping settings.
Module 7: Post-Launch Marketing Blueprint
Set your online store up for long-term success with a consistent marketing system. You'll learn why creating your e-commerce store is not enough to sustain your handmade business. Develop a reusable, post-launch strategy that will engage your dream customers, promote your products, and make the sale.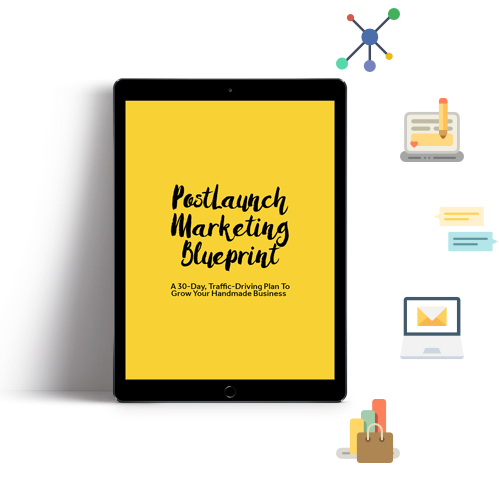 You'll Get:
Conversion Tool Workbook, entice all those leads you collected while building your storefront with an irresistible offer to make them a paying customer.

Promotional Email Template, use our helper script to craft your store grand opening announcement to build excitement and create urgency to buy.

30-Day Post-Launch Marketing Calendar, put promotions on autopilot with recommended days and frequency to market your handmade brand across multiple

channels.
Enroll Now And You'll Get These E-commerce Optimizing Resources – FREE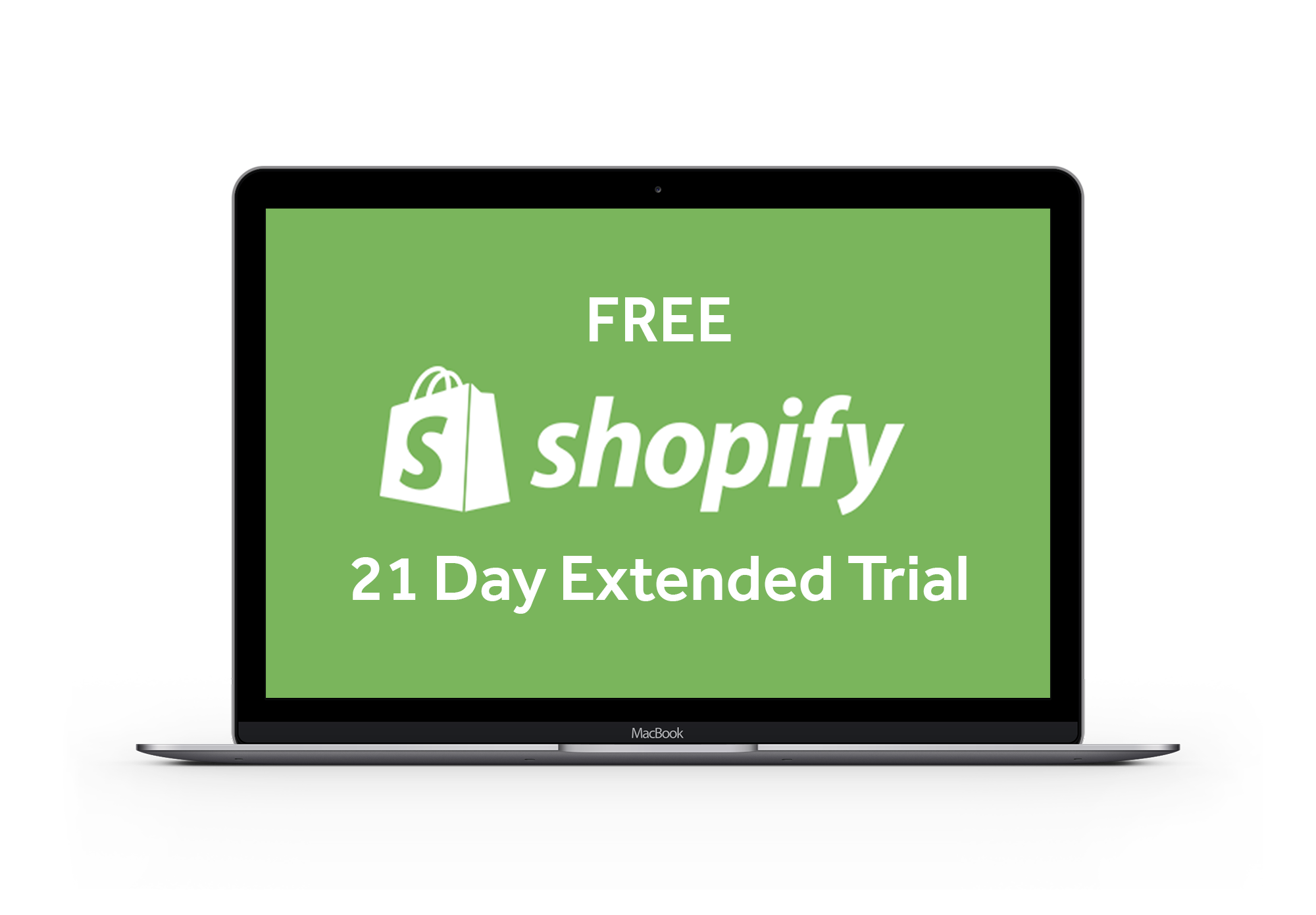 BONUS #1: Free 21-Day Shopify Trial
We designed Handmade for Commerce to make it super easy to create your Shopify store. That's why we're offering all students a free 21-day extended trial period (compared to the standard 14-day trial). That's 3 whole weeks to build your pre-launch sales funnel and Shopify store following our step-by-step course system.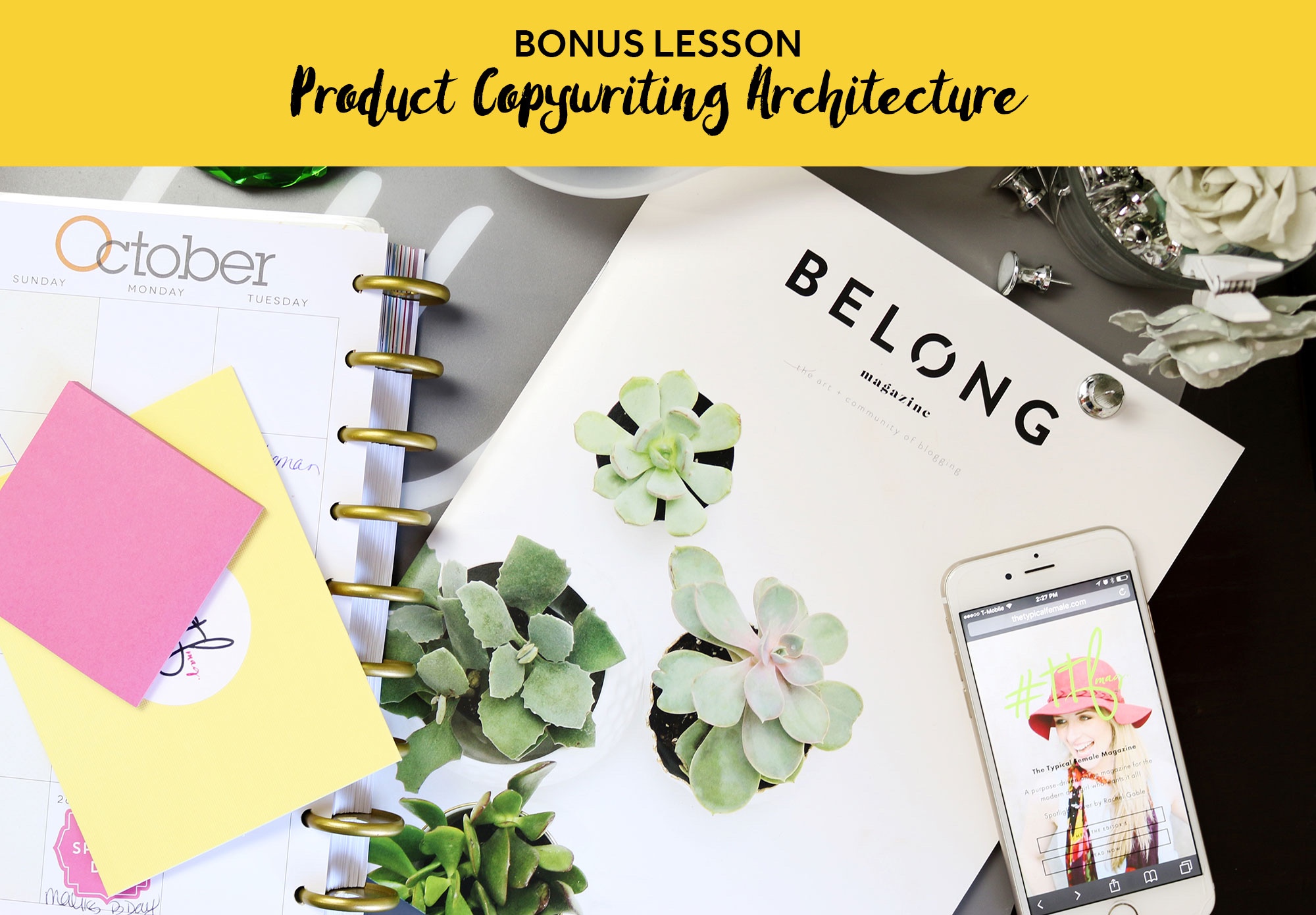 Bonus #2: Product Copywriting Architecture
After working with hundreds of creative makers and handmade brands, like you, I identified the formula for crafting a compelling, shop-worthy product description. The Product Copywriting Architecture is my 2-part formula for writing product copy that connects with your dream customers and fosters confidence in their buying decision. You'll also learn to infuse SEO keywords in a natural, authentic way.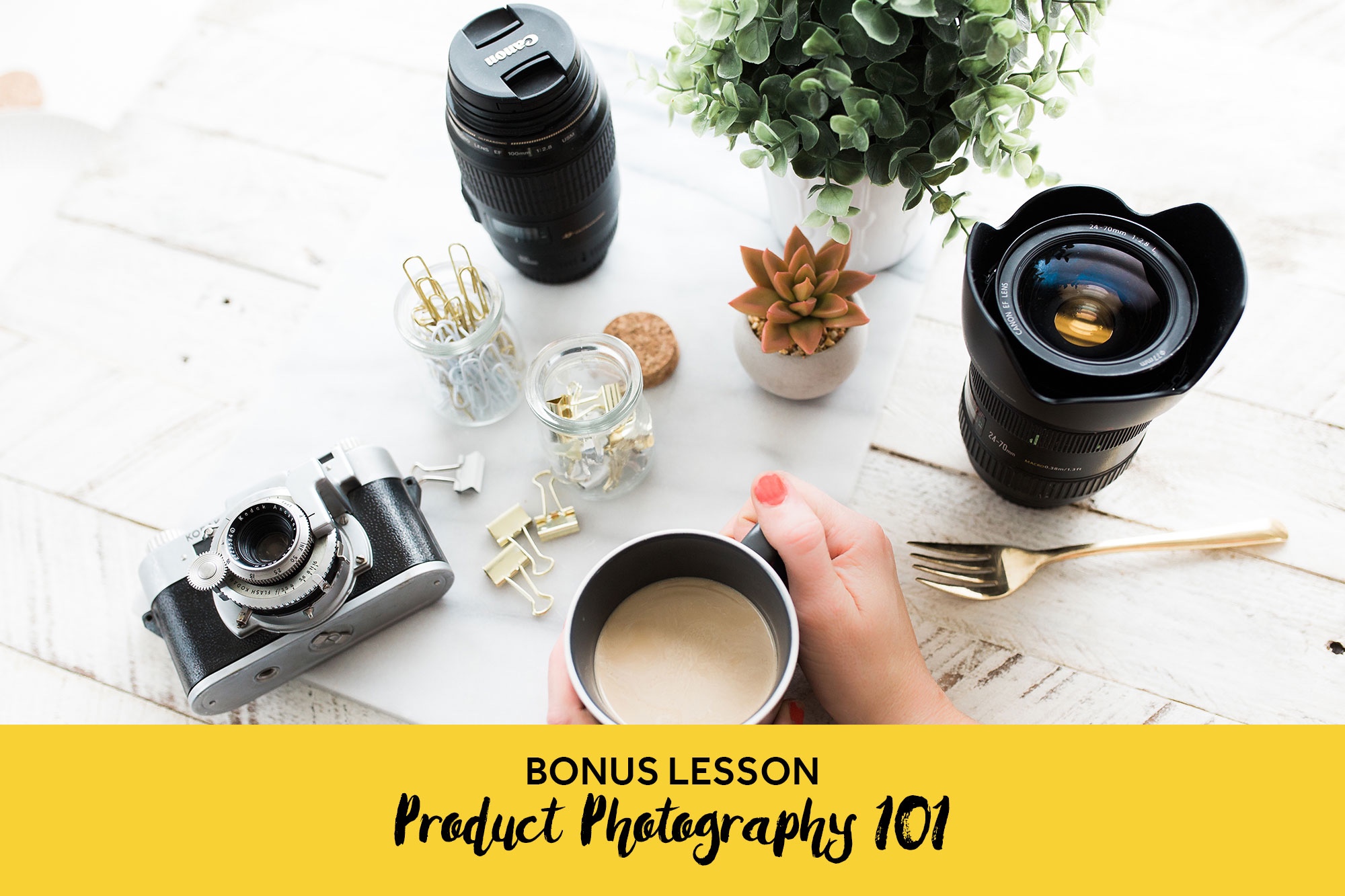 Bonus #3: DIY Product Photography 101
Your products are the stars of your website! Your customers can't feel, try or experience your product before they buy so it's important to showcase your products in the best possible way. In this bonus lesson, I've put together the best tips and resources to take your own product photos using just your smartphone. You'll also learn the secret to achieving a consistent and professional photo layout on your online store.
Here's Proof That Handmade for Commerce Works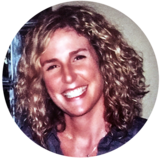 "I have zero tech experience, so I needed to trust that my web designer had the knowledge to create my entire site, import from Etsy and then train me on all of the features Shopify has to offer. Chanelle patiently held my hand and explained the technology in terms I could understand. She also offered many suggestions, optimizations and added features that I never knew existed or that I even needed."
- Heather Haws-Babb, Chocolatier/Candy Maker, Three B's Sweets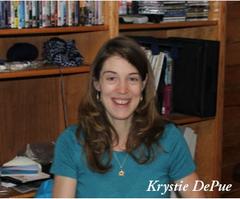 "At first, I was focused on putting more effort and money into my Facebook ads. But Chanelle encouraged me to leverage underused, low-cost opportunities before buying more ads – focusing on site improvements and email promotions. Even though I had a size-able email list, I wasn't sending regular emails. Chanelle helped me change that and after my first campaign I gained 2 new paid subscribers."
- Kristie DePue, Bead Designer/Crafter, BeadTrove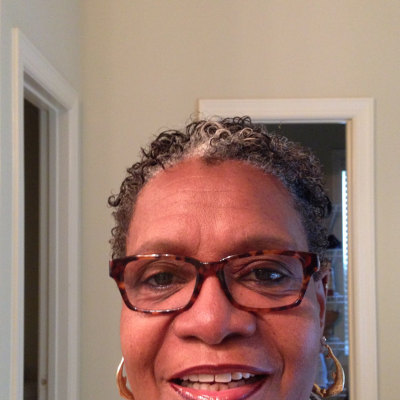 "Chanelle helped me prioritize the best ways to improve my store and gain more traffic and sales. We worked together to define my dream customers and create a targeted sales funnel to grow my list and increase sales. I'm so excited to finally have a plan to grow my handmade skin care business."
- Yvonne Suber, Natural Bath & Body Creator, SuVonne

"I'd been working on my Shopify store for over a year before hiring Chanelle. I wanted to move from Etsy to my own website but was completely overwhelmed with all the choices and just didn't have the time to figure it out. Chanelle guided me through my own pre-launch process, created a store that was perfect for my custom baby keepsake brand, and provided the tools to promote my store."
- June Wilson, Custom Embroiderer, Junie Grace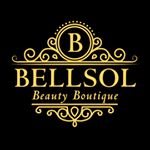 "It took me years to bring my beauty business to life. A lot of work went into researching formulations, packaging and registering my business but when it came to my website I needed to hire a pro. Chanelle took care of all the tech stuff, that I didn't have time to learn, and delivered a gorgeous online store and a plan to grow my following."
- Nora Pelin, Organic Beauty Care Creator, Bellsol Beauty Boutique
Imagine The Impact On Your Handmade Business & Life In Just 7 Weeks

In Handmade for Commerce, you'll have the strategies, tools, support, and guidance to launch and market your new Shopify store and transform your handmade business.

Your Instructor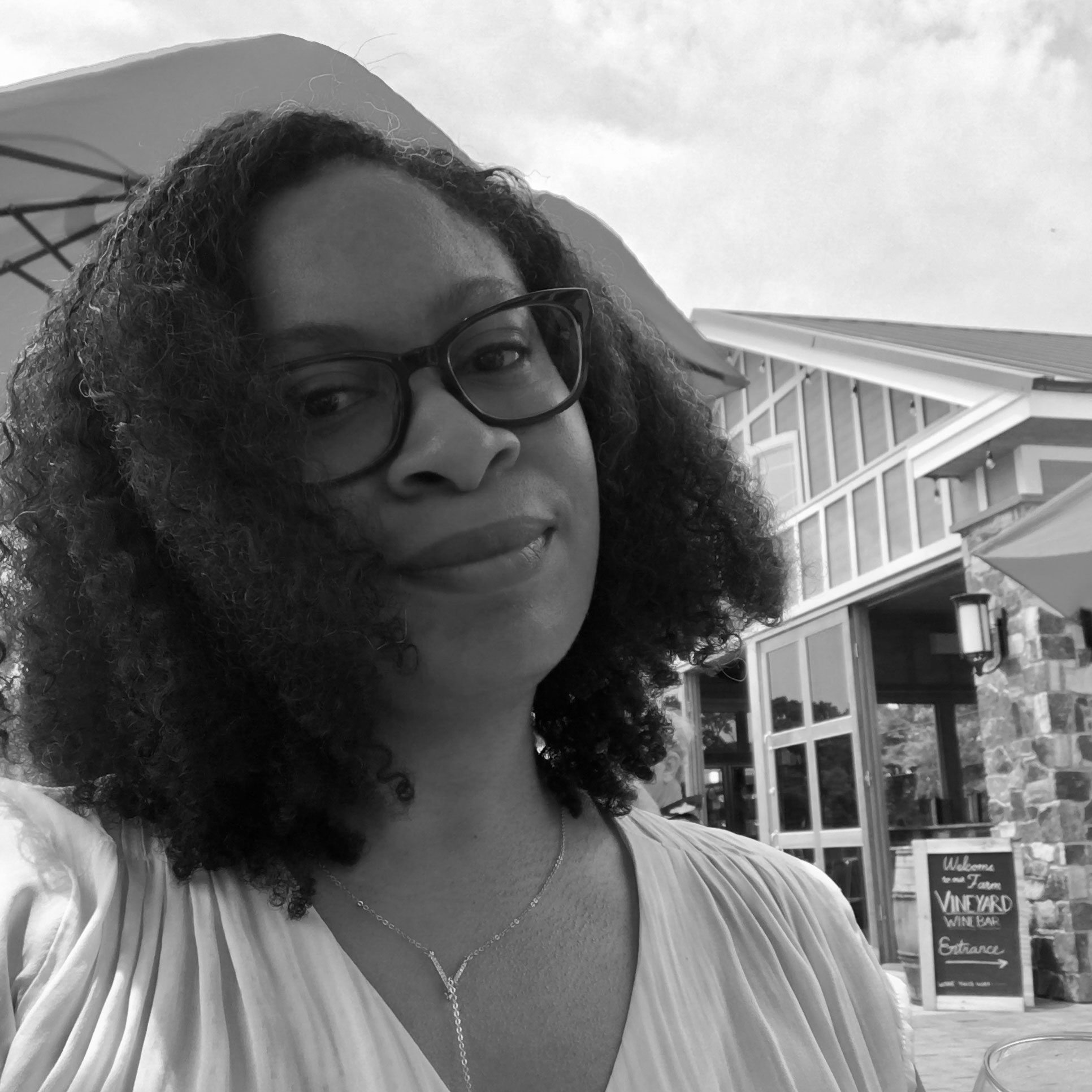 It's time to escape the limitations of Etsy (and other marketplaces) and regain control over your handmade business with your own branded e-commerce website.

As a creative maker and handmade brand, you want to focus on CREATION and ENGAGEMENT with your customers – not worrying about your marketing strategy, how to migrate from Etsy to your own online store, or figuring out SEO and other tech jargon to attract visitors and make sales!
That's where I come in!
As the #1 Shopify expert for handmade brands, what sets me apart from other web designers is that I deliver stores that both look amazing plus designed for sales and lead generation.
You know...the things that determine if you have an online store that makes money vs. a store that just looks pretty with no traffic or sales.
After working with hundreds of creative makers and handmade brands, like you, I created Handmade for Commerce to help you to move from overwhelm into action so you can grow your list faster; launch your online store faster; and make your first sale faster.
My approach combines the best e-commerce and marketing practices to help shorten your gap to gain financial freedom in your handmade business, so you can do more of what you LOVE!
Space is strictly limited! Once the course is sold-out, the doors will close and new students may need to pay 50% more than you will right now.
Your Handmade for Commerce registration comes with a no-obligiation 14-day guarantee.
We're in the business of creating e-commerce systems and programs that create results. If for any reason you're not thrilled with the content and the potential impact it will have on your handmade business, we'll refund your tuition 100% within the first 14 days. Just send us an email, no questions asked.
Spaces will fill up quick, so don't wait!

Frequently Asked Questions
What are the course dates?
The enrollment period for Handmade for Commerce is happening now. We encourage you to register early to claim your spot as space is strictly limited. If you're traveling or have other life commitments during the Handmade for Commerce enrollment period, it's not a problem. All students receive access to the material for the life of the program (and yes, that includes any new updates).
Where does the course take place?
Everything takes place online through the student portal – no travel required. You have lifetime access to the training, so you can go through the materials each week as they're released in the student portal, or you can slow things down and work at your own pace.
How much time do I need to commit?
If you plan to work through each module weekly, we recommend between 4-6 hours per week to watch the training, complete your assignments and — if you'd like — engage with the community. If you're not able to carve out that much time at first, don't worry. You get lifetime access to the training and can easily work at your own pace, on your own schedule. The more focus and dedication you put into Handmade for Commerce, the more you'll get out of it. Other factors that affect how much time you'll need to complete Handmade for Commerce include: • Your overall clarity and how quickly you make decisions • How much momentum you have in your business • Your comfort level with basic technology • Whether or not you participate in the comments and conversations in the Handmade for Commerce community (recommended, but optional) • Whether or not you choose to complete every piece of coursework
How long do I have access to the course?
After enrolling, you have unlimited access to this course for as long as you like - across any and all devices you own.
What if I am unhappy with the course?
If you are unsatisfied with your purchase, contact us in the first 14 days and we will give you a full refund.
What kind of support do you offer students?
Once you join the program, you'll have guidance and support in a safe and encouraging environment. Each student has access to: • Lesson Comments: Under each training video, you're invited to comment, post your questions and get the help you need. • Community: In our private, student-only community you can share ideas, ask questions, get feedback and connect with other students. • Q&A Recordings: Listen to pre-recorded Q&A calls with Chanelle Rene. She tackles your toughest questions and provide guidance to move you ahead. Any new questions can be asked in the private student forum.
Do I have to use Shopify?
The course experience was designed for use with the Shopify platform for its ease of use and secure, reliable e-commerce system. Students will be guided step-by-step to build their sales funnel and online store using Shopify. While certain e-commerce principles can be applied to other platforms, we cannot offer support for non-Shopify platforms. In addition, enrolled students will receive an extended 21-day Shopify trial (versus the typical 14-day trial), to create your online store. After the trial period expires, student must purchase a Shopify plan to maintain their store.
What if I'm not technically savvy?
We designed the course to simply the technical aspects of building your e-commerce website. Through video lessons, code cheat sheets, downloads and guides, we'll walk you through each step to complete your online store.
Who is right for Handmade for Commerce?
Handmade for Commerce is geared for passionate creative makers, crafters, artisans and handmade brands who want clarity and guidance to launch and market your own e-commerce website. It's for committed beginners and evolving businesses who want direction, clarity and skills. The experience is designed to help you start and grow an e-commerce business you believe in by marketing and selling more effectively online.
Who's not right for the course?
It's not right if you're looking for a one-on-one client/web designer relationship or custom service. Nor will this course teach you how to design your logo or other graphic design elements. Our program is not right for those looking for help with legal set up, tax structures, raising funding, manufacturing, or distribution. Our program is not right if you're looking to market to your fellow students. Handmade for Commerce is a pitch-free zone. This program is not right if you hope to learn by osmosis. Handmade for Commerce is for action-takers who understand that real change happens with consistent, focused effort over time. Handmade for Commerce is not right for someone looking for a cookie cutter "plug and play" system to make money. This is not a 'get rich quick' program. It's a 'get great over a long period of time' program.
What type of payment do you accept?
We accept all common credit cards including Visa, Mastercard and American Express. For pay-in-full orders, we can also accept PayPal. We are not set up to receive checks or invoices.
Any other related costs?
If you do not have a domain, we recommend purchasing one for a more professional website. The average cost is around $20/year. Also once your 21-day extended trial expires, you will need to purchase a Shopify plan starting at $29/month. All Shopify Apps and theme used in the course are free. (Any app and theme upgrades are optional)
Your Handmade for Commerce course experience starts immediately once you click the "Enroll in Course" button. Once you click the button above, you'll be taken to our secure checkout. After your registration is complete, you'll be sent an email receipt. Your login information will be sent to the email you provided during registration.
Can't wait to see you inside!
Chanelle Rene
© Copyright Handmade for Commerce. All Rights Reserved.
This is not a get-rich-overnight kind of thing. Let's be real. It takes a bit of effort and focus to achieve the kind of results you want to achieve. But, you're already putting in the effort, right? I'm here to help you focus on creating a system that will work for your online handmade business and create a steady stream of leads and customers. We do not believe in get rich quick schemes, but we do believe in hard, smart work. As such, we do not make any guarantees about your success or income level. Any testimonials, results or other references to revenue generated through the systems taught in this program are not typical of average results. The results you get are entirely dependent on your personal efforts, your experience, resources and other factors. Terms & Conditions